Expert: How 2 retailers are winning back to school
First, Macy's. The company is doing a great job of engaging shoppers through social media, and that engagement is getting fans talking.
"Macy's is the clear winner because of these two key metrics – total overall engagement among its 100 most engaged fans, and average engagement index of comments and likes generated by those fans. Together with a comparatively high PTAT:Likes ratio, Macy's boasted the highest percentage of engagement among these fans (73%), who are also engaging others at a rate 6X+ higher on average, compared with the other retail brands analyzed," said Lyle Stevens, Co-Founder and CEO,MAVRCK. PTAT = People Talking About This. "This indicates that Macy's is not only successfully engaging with these fans on Facebook, they're also engaging the most influential consumers among this target audience. These everyday, highly engaged fans are also known as micro-influencers; they have the power to amplify brand messaging and drive conversion among their own friends & followers."
Kohl's is another big winner, and again Stevens notes that part of the winning strategy has to do with Facebook. He notes that Kohl's is excelling at using Facebook's new branded tools to engagement with shoppers.
"An analysis of their page feed shows that it is optimized to perform best with Facebook's current algorithm, which heavily favors video and paid placement. You'll see a similar mix of content as the Macy's feed – but there are some key differences, such as promotions and incentives are published in an ad post with a "Shop Now" CTA button (more on that feature here). Kohl's is also publishing more video, and aligning that message with their larger digital & TV campaigns (#BeYourself messaging + creative), and leveraging celeb influencers to generate awareness (Pretty Little Liar's Shay Mitchell for the "Fit to Wander" activewear brand)," said Stevens. "While Kohl's is out-performing Macy's in the PTAT ratio, it's interesting to note that despite the paid posts, video, and competitive total fan likes – Kohl's doesn't even begin to eclipse the overall engagement driven by Macy's top fans and their ability to engage others in the conversation."
More from Lyle and MAVRCK next week, including how brands can use back to school trends to win over the upcoming 2015 holiday season.
ABOUT THE AUTHOR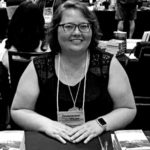 Kristina Knight is a freelance writer based in Ohio, United States. She began her career in radio and television broadcasting, focusing her energies on health and business reporting. After six years in the industry, Kristina branched out on her own. Since 2001, her articles have appeared in Family Delegate, Credit Union Business, FaithandValues.com and with Threshold Media.