News consumption growing on social networks
Pew found that 63% of both Twitter and Facebook users get news on those social networks. That is an increase from 2013 of 52% and 47% respectively. The growth in news consumption on social media platforms is consistent across all demographics, regardless of age, gender, race, education level, or household income.
However, while the same percentage of users look to each platform for news, nearly twice as many follow breaking news on Twitter (59%) than they do on Facebook (31%). This is probably due to the constantly updating information and ability to use hashtags to search for an event and follow larger sources of real-time information.
While the numbers of people sourcing news via social networks has increased, it is still seen by most as a secondary news source. Among both Twitter and Facebook users, 60% said that the sites were "not a very important way" to get news. However, about half of younger social network users (18-34) said that the sites were "the most important" or "an important" way to get their news.
"The sizeable increase in news consumption on Twitter and Facebook since 2013 corresponds with new initiatives and features both platforms have introduced to promote access and engagement with media content," said Jon Sotsky, Knight Foundation's director for strategy and assessment. "Exploring how news consumption through social media can shape how people interact with, respond, and react to the news will be critical for news providers and others interested in advancing the real-world impact of journalism."
Recent research by PR firm 72Point found that 7 in 10 people think social media has made it easier to access news and brought them closer to the media. Almost a quarter have friends, or follow people, who they believe are authorities for news and 19% trust friends to source news. However, a quarter continue to rely on media professionals while 23% rely on a mixture of friends and journalists.
ABOUT THE AUTHOR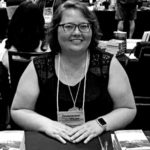 Kristina Knight is a freelance writer based in Ohio, United States. She began her career in radio and television broadcasting, focusing her energies on health and business reporting. After six years in the industry, Kristina branched out on her own. Since 2001, her articles have appeared in Family Delegate, Credit Union Business, FaithandValues.com and with Threshold Media.