'Commuter Commerce' worth £9.3 billion each year
New data released by mobile payments innovation firm Zapp and the Center for Economics and Business Research (CEBR) points to growing mobile commerce among commuters. 'Commuter commerce' now accounts for £9.3 billion (US$14.5 billion) each year as they shop on their way to and from work via smartphones and tablets. Commuters spend, on average, £36 (US$56) per week, and this figure is higher among London commuters (£44 / US$68 per week), with London commuters also accounting for nearly two-thirds of the total spend.
"People in Britain spend more online per head than any other nation, and it seems our love affair with online shopping now also extends to the morning rush hour," says Rob Harbron, Managing Economist at Cebr. "The data shows that commuter commerce is booming in the UK as savvy commuters use their time efficiently to make the purchases they just don't have time for normally. We estimate that making the mobile checkout experience faster and safer could boost spending by £30m (US$47m) each week."
The research found that the most common reason why commuters are shopping online is to "pass the time". Furthermore, many are also taking advantage of 'click and collect' services – by ordering on their way to work they can collect their goods later, perhaps on the way home.
Recent research by adsquare also highlights that these 'mobile moments' during commuting are ideal times for brands and advertisers to get their message across. According to adsquare the average daily commute takes about 57 minutes and commuters spend 44% of that time engaged, not with fellow commuters, but with their smartphones.
"People spend almost half of their hour commute using their smartphones to either manage or enhance their daily lives, giving advertisers a full half hour window of opportunity to encourage brand engagement and interaction that is completely aligned with their activities 'in the moment' and in the appropriate context," says adsquare CEO Tom Laband.
"A holistic approach, one that minimizes wastage and maximizes value by leveraging local context in combination with other data signals based on user behavior, is essential to power programmatic advertising that delivers real results."
ABOUT THE AUTHOR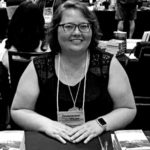 Kristina Knight is a freelance writer with more than 15 years of experience writing on varied topics. Kristina's focus for the past 10 years has been the small business, online marketing, and banking sectors, however, she keeps things interesting by writing about her experiences as an adoptive mom, parenting, and education issues. Kristina's work has appeared with BizReport.com, NBC News, Soaps.com, DisasterNewsNetwork, and many more publications.