Top 3 tips to improve online content
Kristina: What is the difference between content marketing and traditional SEO?
Prashant Puri, CEO & Co-Founder, AdLift: SEO is the channel that drives natural search traffic (not paid) via search engines – in order to be effective SEO should be comprised of 1) technical SEO (make sure your site is technically healthy and search engines can find you), 2) on-page content (making sure the content on your website resonates with what you're selling/goal is), 3) keyword research (going after your target of keywords and audience) and 4) content marketing (creating content that resonates with your product and is relevant to your website). Content marketing helps in driving topically relevant mentions and links to your website thereby helping both your brand as well improving your search engine visibility.
Kristina: How does content influence SEO?
Prashant: One of the most important factors that influences SEO is who's linking back to your website. Essentially, who are your friends (good or bad). If the search engines don't like "your friends" (low authority/bad friends) they won't like you. In order for you to drive domain strength and SEO value "your friends" themselves need to have high domain strength and value. The only way a site (with high domain strength) would link back to you is if you create credit worthy content. The more viral and credit worth content you create, the more high domain authority sites (good friends) link to you.
Kristina: What are your top 3 tips for better content?
Prashant: First, understand your audience and the keywords you'd want to optimize against. Use tools such are Google Keyword Planner and Grep words to dive deeper in keywords that resonate with your product
Second, segment the content piece in to audience personas
Third, market your content effectively – at AdLift we use our proprietary platform – Content Lift that helps us achieve that.
ABOUT THE AUTHOR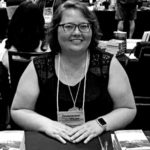 Kristina Knight is a freelance writer based in Ohio, United States. She began her career in radio and television broadcasting, focusing her energies on health and business reporting. After six years in the industry, Kristina branched out on her own. Since 2001, her articles have appeared in Family Delegate, Credit Union Business, FaithandValues.com and with Threshold Media.