Expert: The benefits to early EMV conversion
Kristina: What are some of the challenges merchants face with the new EMV regulations? What about other payment option challenges?
Laurence Cooke, CEO & Co-Founder, nanoPay: One of the biggest challenges merchants face with the new EMV regulations is the looming October 2015 deadline when fraud liability will shift to merchants for all non-EMV transactions. While many merchants have proactively made the move, many more have not yet deployed the infrastructure to support chip and PIN transactions, despite the fact that they will be responsible for any resulting card-present counterfeit fraud losses.
The next challenge is ensuring staff are adequately trained and prepared to accept chip and PIN transactions. Staff need to be educated and ready to support customers who may be unclear on how to process these transactions and how chip and PIN transactions differ from traditional credit card transactions.
Combine these challenges with readiness to accept Apple Pay and other digital contactless transactions, and we can understand why merchants are reluctant to make the commitment to embrace EMV payments.
Kristina: A recent poll showed most merchants aren't ready for the EMV switch-over, and many are taking a 'wait and see' approach toward EMV. What benefits are there for merchants who are already complying with the switchover?
Laurence: For merchants that have already made the move to be EMV-compliant, they have been able to adjust to new customer chip and PIN cards gradually. Rather than waiting until all transactions need to be EMV-compliant, they have been able to ease their staff into accepting chip and PIN payments, ultimately creating more time to answer questions and work out any kinks or inconsistencies.
In addition, these merchants have been able to benefit by simultaneously deploying dual-interface contactless-ready terminals, which means that they are ready for NFC payments from Apple Pay and Google Wallet, among others.
Kristina: Do these benefits outweigh the initial costs of transitioning, in your opinion?
Laurence: Looking long term, the benefits will outweigh the cost of transitioning, but not without the initial pains of change. Many merchants remain skeptical of the benefits of moving to chip and PIN payments when they compare the high cost of upgrading their infrastructure. The fact is that EMV will reduce card present fraud risk due to counterfeit cards, which should result in lower fees to merchants.
In addition, EMV brings support for contactless cards and NFC payments, which means that merchants are ready to support future mobile payments.
ABOUT THE AUTHOR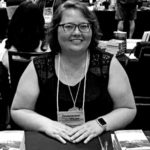 Kristina Knight is a freelance writer based in Ohio, United States. She began her career in radio and television broadcasting, focusing her energies on health and business reporting. After six years in the industry, Kristina branched out on her own. Since 2001, her articles have appeared in Family Delegate, Credit Union Business, FaithandValues.com and with Threshold Media.