SMB Roundup: How SMBs are spending and new enterprise tools
First, Bigcommerce has launched Bigcommerce Enterprise. The new ecommerce platform is set up to help higher volume retailers manage and scale their businesses. The new platform gives retailers access to real time analytics and the Bigcommerce Insights Optimization Engine.
"The technical barriers to selling online have been significantly reduced, and brands are questioning the notion that growth means complexity," said Eddie Machaalani, co-founder and CEO, Bigcommerce. "Our enterprise platform delivers the functionality and scalability merchants need to compete in the big leagues, while avoiding the waste associated with managing an overly-complex, on-premise or proprietary solution."
Meanwhile G/O Digital and Entrepreneur magazine have released a study which finds most SMBs (76%) have fewer than 10 employees and just over half (61%) are making $500,000 or more per year. The data further shows SMBs are using mobile devices – tablets and smartphones – at least as much as they use laptops.
"Small businesses want to maximize their online visibility and it's evident that without dedicated marketing teams and budgets allocated outside of marketing, every digital marketing action counts," says Raghav Mathur, VP of Strategy and Business Development at G/O Digital.
Other interesting findings from the report include:
• 80% of SMBs spend 5% of less of their revenue on digital marekting
• 33% say they are 'most likely to share' research studies with colleagues
• 26% say they would share product demonstration videos
ABOUT THE AUTHOR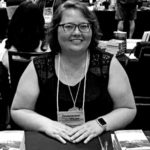 Kristina Knight is a freelance writer based in Ohio, United States. She began her career in radio and television broadcasting, focusing her energies on health and business reporting. After six years in the industry, Kristina branched out on her own. Since 2001, her articles have appeared in Family Delegate, Credit Union Business, FaithandValues.com and with Threshold Media.