Shoppers: Tracking is creepy
According to the RichRelevance data some of the most un-wanted tech features include:
• Stores using digital screens that tailor prices to the shopper specifically rather than simple price tags
• Digital screens in dressing rooms that make recommendations based on what the shopper is trying on
• Salespeople opening dressing room doors based solely on shoppers' position in the store
• Facial recognition that relays your shopper value to sales associates or that identifies shoppers' age/gender and uses that to recommend products
"Shoppers want digital personalization when they are ready to engage," said Diane Kegley, CMO of RichRelevance. "They may not be ready for personalized messages the moment they walk in the door or even when they hit the dressing room, but our survey suggests they welcome relevant information and promotions when they are making a purchase decision."
As for the tech shoppers do want: the ability to scan products via mobile devices to see reviews and ratings, interactive maps that show where items are located in stores, and location-based triggers personalized recommendations or coupons.
"Our study shows that retailers need to focus on digital store capabilities that drive engagement and convenience by making sure the right products and content are always available to shoppers," Kegley continued. "Retailers have a huge opportunity to leverage their biggest asset, the store, to gain an edge when it comes to customer experience."
ABOUT THE AUTHOR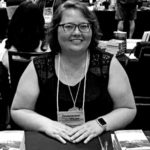 Kristina Knight is a freelance writer with more than 15 years of experience writing on varied topics. Kristina's focus for the past 10 years has been the small business, online marketing, and banking sectors, however, she keeps things interesting by writing about her experiences as an adoptive mom, parenting, and education issues. Kristina's work has appeared with BizReport.com, NBC News, Soaps.com, DisasterNewsNetwork, and many more publications.