Politics huge on Facebook but it's no echo-chamber, says the network
According to Facebook's Politics and Government specialist for Europe, the Middle East and Africa, Elizabeth Linder, politics is huge on the social network. "With over 52 million interactions related to the general election already this year, we fully expect it to be the most discussed topic in the UK in 2015," she said.
But Facebook has denied that the platform has become an "echo chamber" for like-minded people. In research published in Science this week, Facebook shows that it is your friends and the content you click on that are "more important factors than News Feed ranking in terms of how much content you encounter that cuts across ideological lines".
The research involved analysis of 10.1 million U.S. users to see how similar their political views were to their friends as well as how likely those users were to encounter diverse views in their News Feed. An interesting finding is that users are more likely to click on a news article about an opposing political view if it is from a friend than a news article that supports their own political view posted by a source with whom they have no social connection.
"Homophily, the tendency for similar individuals to associate with each other ("birds of a feather flock together,") is a robust social phenomenon," says Facebook in a recent blog post. "Friends are more likely to be similar in age, educational attainment, occupation, and geography. It is not surprising to find that the same holds true for political affiliation on Facebook."
In fact, the research found that nearly a quarter (23%) of a person's Facebook friends held opposing political ideologies.
"By showing that people are exposed to a substantial amount of content from friends with opposing viewpoints, our findings contrast concerns that people might "list and speak only to the like-minded" while online," says Facebook. "The composition of our social networks is the most important factor affecting the mix of content encountered on social media with individual choice also playing a large role. News Feed ranking has a smaller impact on the diversity of information we see from the other side."
ABOUT THE AUTHOR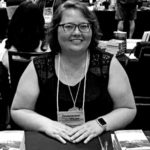 Kristina Knight is a freelance writer with more than 15 years of experience writing on varied topics. Kristina's focus for the past 10 years has been the small business, online marketing, and banking sectors, however, she keeps things interesting by writing about her experiences as an adoptive mom, parenting, and education issues. Kristina's work has appeared with BizReport.com, NBC News, Soaps.com, DisasterNewsNetwork, and many more publications.