Slow adoption of virtual events despite cost and time benefits
When InterCall surveyed 340 marketers on their thoughts, experience and perceptions of virtual events they found that those who had tried them recognized the benefits. However, just 50% had ever attended a virtual or hybrid (both virtual and in-person components) event and only 33% had hosted one.
In fact, the vast majority continue to put their faith in physical events with 85% citing a preference for them and 92% perceiving they would generate more leads.
According to InterCall, the reason why so many are hesitant to adopt virtual events is simply because they have not yet tried one.
"Among those who already had experience with virtual or online events, it was clear they realize the advantages," says Susan Levand, Product Marketing, Event Services at InterCall. "This suggests an opportunity to present something new that generates leads, instead of falling back on stale activities."
The advantages of virtual events are numerous. As well as being able to gather better data, such as which materials attendees downloaded, what questions they asked, which elements they viewed and for how long as well as contact and registration information, costs are far lower and the length of the event can be a lot longer. Virtual events can even be recorded so that attendees can view them at their leisure and aren't restricted by tight dates.
In fact, being able to stay at home and not travel to an event was one of the top reasons marketers gave for attending a virtual event, followed by being able to multi-task and the low cost of attendance. Nearly two-thirds (62%) said they would log on from their office, 14% would attend from bed, 9% from their car and 5% from the beach or swimming pool
"Perhaps the phrase "Try it! You'll like it" is good advice for marketers who haven't dipped their toe into the water yet," says Levand. "Not only did marketers who had hosted events plan to schedule more of them, they also were more likely to recognize the benefits. These marketers experienced increased lead generation and attendee engagement when they hosted virtual events."
ABOUT THE AUTHOR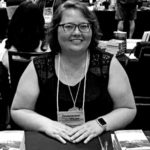 Kristina Knight is a freelance writer based in Ohio, United States. She began her career in radio and television broadcasting, focusing her energies on health and business reporting. After six years in the industry, Kristina branched out on her own. Since 2001, her articles have appeared in Family Delegate, Credit Union Business, FaithandValues.com and with Threshold Media.