Research reveals how much of an ad's performance down to controllable factors
In their analysis of nearly 40,000 banner ads from 1,076 advertisers across 16 verticals totaling 23.3 billion impressions served between November 2013 and June 2014, Rocket Fuel was able to categorize ads to determine which elements were key to engaging consumers. The findings are laid out in the 'Definitive Guide to Creative Optimization' report.
Rocket Fuel says that their research "illuminates how much of an ad's performance is due to controllable factors like background color or logo placement".
Elements investigated included presence of people, inclusion of the advertiser's logo, background colour, whether animated or static, length of animation, product presence, and whether a special or time-limited offer was contained in the message.
Their findings were as follows:
– Ads containing people drive a 4% increase in conversion rates; human faces drove a higher conversion rate lift, 102% higher if it's a man, 25% with a woman;
– Ads with the logo placed in the lower-left corner of the ad averaged 81% higher conversion rates compared to logos placed in other positions;
– The color red as a background drove a 31% higher conversion rate, on average;
– Animated ads with 6-9 seconds of animation (including loops) had the highest rate of conversion (138%) while animated creative on average drove 7% higher conversion rates;
– Ads that showed the advertised product drove 6% higher conversion rates;
– Ads that included a special offer averaged 98% higher conversion rates.
"Some might look at the data and conclude that it over-prescribes creative opportunities," said Eric Porres, Rocket Fuel CMO. "But we think the opposite is true. The data illuminates what has worked well in the past, but it doesn't limit the discovery of what might work in the future. One of the best benefits of programmatic is that it enables affordable and fast real-world testing of literally any idea or hypothesis you can imagine. It opens possibilities – it doesn't close them."
ABOUT THE AUTHOR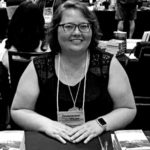 Kristina Knight is a freelance writer with more than 15 years of experience writing on varied topics. Kristina's focus for the past 10 years has been the small business, online marketing, and banking sectors, however, she keeps things interesting by writing about her experiences as an adoptive mom, parenting, and education issues. Kristina's work has appeared with BizReport.com, NBC News, Soaps.com, DisasterNewsNetwork, and many more publications.