Millennials say the right content drives brand loyalty
In their survey of 501 U.S. Millennials, content marketing platform Newscred uncovered what kind of content fosters brand loyalty among this age group.
Of the respondents, nearly two-thirds (62%) said that the right online content does increase their brand loyalty. However, most are being turned off by the current content being offered to them. Just 32% believe modern brand communications are of any help to them. The type of content they are currently receiving is perceived as being too long, too sales-driven and ignores their individual cultural interests.
The good news for brands is that only 12% declared their active dislike for marketing communications. Therefore, brands that can engage Millennials through personalized, humorous, intelligent and helpful content have ample opportunity to drive loyalty and sales.
"Millennials today value quality over quantity when it comes to content marketing. Our survey data shows that the most important driver of brand loyalty for Millennials is a great product at 77%, followed closely by brand recognition and trust at 69%. To me, this is an awesome sign for brands," said Shafqat Islam, CEO and Co-founder, NewsCred.
"Millennials don't want to have to work to find the value in a sea of sales messages. Brands can earn Millennials' trust, loyalty, and share of wallet with the right content – but they need to invest in being a helpful partner that respects the characteristics, interests, and qualities that make each millennial unique."
Other key findings from the study, 'The Millennial Mind: How Content Drives Brand Loyalty', include:
– 31% of Millennials were more likely to buy from brands that delivered interesting content;
– Millennials do not shun branded content entirely. Just 2% said they never read communications from brands; 15% always read it, 31% most of the time, 30% sometimes, 16% rarely;
– 41% abandon content if it is too long;
– 71% search for content on Google, 66% on Facebook, 24% on Pinterest.
ABOUT THE AUTHOR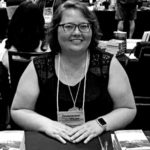 Kristina Knight is a freelance writer with more than 15 years of experience writing on varied topics. Kristina's focus for the past 10 years has been the small business, online marketing, and banking sectors, however, she keeps things interesting by writing about her experiences as an adoptive mom, parenting, and education issues. Kristina's work has appeared with BizReport.com, NBC News, Soaps.com, DisasterNewsNetwork, and many more publications.