UK: 40% of online sales made via mobile device
Forty percent of online sales in the U.K. are now made via a mobile device such as a smartphone or tablet, according to the latest IMRG Capgemini Quarterly Benchmark which covers November 2014 through January 2015. That figure represents an increase from the previous quarter (37%) and from the same quarter a year ago (32%).
The majority of mcommerce sales were via tablets (75%) and the remainder via smartphone.
According to Adgild Hop, retail director at Capgemini, it may not be too long before smartphone mcommerce overtakes tablets as tablets approach a plateau in use.
"The potential impact of the smartphone on the in-store shopping experience will be a key area of innovation and development in the coming months," said Hop.
Tina Spooner, chief information officer at IMRG, observes that while smartphones are generally viewed as research tools as opposed to being used to make purchases, the number of mobile sales made via smartphones has increased significantly – from 1 in 5 to 1 in 4 within just 12 months. Similarly, mobile conversion rates have also risen significantly.
"The quarterly growth of smartphones as a shopping channel may only be slight, it is however very significant," added Hop. "Over the last few years, retailers have taken huge steps in improving their smartphone shopping platforms, making them more user intuitive and more secure for customers. Coupled with greater connectivity, consumers are more confident than ever in using their smartphones to make complete purchases and not just for online window shopping."
ABOUT THE AUTHOR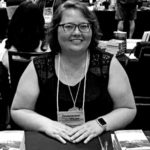 Kristina Knight is a freelance writer based in Ohio, United States. She began her career in radio and television broadcasting, focusing her energies on health and business reporting. After six years in the industry, Kristina branched out on her own. Since 2001, her articles have appeared in Family Delegate, Credit Union Business, FaithandValues.com and with Threshold Media.