79% of brands plan proximity marketing investment in next six months
Airspace's study in the U.K. among 100 marketing and brand decision makers in the hospitality, retail and leisure industries with at least 500 employees, conducted by Vanson Bourne, found that nearly all (99%) are considering investment in proximity marketing.
Some brands are further along the road to proximity marketing implementation. Four out of five brands are already in the process of investing or trialing the technology and more than three-quarters (79%) of those planning to invest plan to do so within the next six months.
Do those figures sound too good to be true? And coming from a company that specializes in the technology, too?
"Maybe we got lucky with the sample size? Maybe Vanson Bourne's questions were very cleverly phrased. In both cases I don't think that's what's happening here," says Airspace CEO Ian Malone. "I think, in a sign of just how quickly brands are realizing the importance of mobile to consumers, they are determined not to lose competitive advantage to a rival brand who will, in their eyes and backed up by the survey, almost certainly will be benefiting from the technology. What the survey tells us, more than anything else, is that brands are not just ready to embrace the technology, they are doing so right now."
Key drivers of proximity marketing adoption are data collection, analytics and in-store tracking. Eighty percent of respondents to Airspace's survey said their decision to look at proximity marketing was driven by the ability to better understand customers through the gathering of more accurate data. Proximity analytics was quoted by 78% of respondents as being important to understanding which online customers also shop in-store and 76% said the technology was useful to understand customer movement patterns in-store.
Within the next five years, 81% of the marketing and brand decisions makers surveyed said they expect proximity marketing activity to account for between 10% and 30% of their mobile marketing budget.
"This research neatly matches our own conversations with high street retailers who feel they need to act now and invest in proximity marketing," says Malone. "Retailers that utilize proximity marketing to deliver relevant messages will see an upturn in conversion rates and arguably more loyal customers."
Download a free copy of the Airspace report, 'Brands and Proximity Marketing: How they see the future of marketing-to-mobile in-store'.
ABOUT THE AUTHOR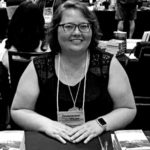 Kristina Knight is a freelance writer based in Ohio, United States. She began her career in radio and television broadcasting, focusing her energies on health and business reporting. After six years in the industry, Kristina branched out on her own. Since 2001, her articles have appeared in Family Delegate, Credit Union Business, FaithandValues.com and with Threshold Media.