Survey: Shoppers say yes to wearables
Stratos Incs recently surveyed consumers to determine which wearable technology devices they are most interested and perhaps unsurprisingly smart wristbands (53%) were the most interesting to shoppers. About one-third are also interested in wearable cameras and one-quarter say they are interested in smart clips.
Perhaps most interesting, though, is that three-quarters of respondents 'are interested' in some type of wearable technology, indicating the high growth rate manufacturers and retailers can expect over the coming months.
"Consumers are rapidly incorporating wearable technology into their lives, but they want "the right wearable for the right function," said Thiago Olson, co-founder and CEO of Stratos, Inc. "Just like a wristband feels right for health monitoring – the connected card with its familiar plastic form is the preferred payment wearable. But of course, the fact that the card is connected allows them to manage their payments in a way traditional cards can't begin to equal. It's going to be an exciting year for wearables – and for payments."
Some interesting takeaways from the report include:
• 49% want an 'all in one' digital card for payments
• 32% would like to pay by mobile devices
• 9% say they would pay by watch
• Fewer than 10% say they would pay by arm/wristband, smart clip or shoe
ABOUT THE AUTHOR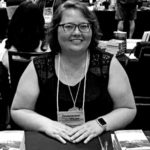 Kristina Knight is a freelance writer with more than 15 years of experience writing on varied topics. Kristina's focus for the past 10 years has been the small business, online marketing, and banking sectors, however, she keeps things interesting by writing about her experiences as an adoptive mom, parenting, and education issues. Kristina's work has appeared with BizReport.com, NBC News, Soaps.com, DisasterNewsNetwork, and many more publications.