RadiumOne's mobile trends to watch in 2015
First, mobile in-car becomes an 'Internet of Things' player.
"A wide range of brands can take advantage of in-car technologies that are featuring improved user-friendly interfaces, wifi and an expanding set of information and offerings. The most obvious connections to consumers can be made by automotive-related brands from gasoline to tires to repair services," said Eric Bader, CMO, RadiumOne. "Additionally there are big opportunities for insurance, retailers, QSRs and specialties such as coffee that can use data about location, time-of-day and specific routes to tailor their messages to drivers and passengers. Integrations with CRM databases and even social networks such as Facebook data could enable brands advertise in cars to suggest items based on the number of days until Christmas and proximity to a mall."
Second, native will move into social, mobile networks.
"The growth and effectiveness measurements of native advertising from 2014 are very encouraging. As advertisers look for ways to break through the clutter and become more relevant, native ad spending will grow and the offerings will evolve to meet the unique opportunities of social and mobile. Social and mobile of course are merging as so much social engagement is happening through mobile devices. Effective native ads will be served in as close to real-time as possible and be embedded in relevant content in ways that consumers will favor as opposed to more interruptive methods of getting consumers' attention. Mobile native ads especially will reflect geographical and contextual opportunities," said Bader.
Third, mobile video ads will skyrocket.
"Video has arguably the most demand and growth of all the digital channels right now and since so much of it is being consumed on mobile devices, we will see a huge expansion in spending in 2015. Look for an evolution of the types and formats beyond just pre-roll to shorter and more innovative, and maybe less interruptive, types. There are hundreds of brands that rely on video to tell stories and they are looking for ways to spend money on effective and break-through digital formats and channels," said Bader.
ABOUT THE AUTHOR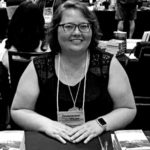 Kristina Knight is a freelance writer based in Ohio, United States. She began her career in radio and television broadcasting, focusing her energies on health and business reporting. After six years in the industry, Kristina branched out on her own. Since 2001, her articles have appeared in Family Delegate, Credit Union Business, FaithandValues.com and with Threshold Media.