Mobile, video to see analytics changes in 2015
"Q4 2014 will see lots of data around mobile and tablet with many retailers having mobile and tablet optimized sites. The actual buying of things will be shifting to mobile/tablet where traditionally people bought on desktop – research on mobile, but buy on desktop," said Edwin Lee, Vice President of Global Retail with MediaMath.
"2015 will be a key year for gaining a better understanding of measurement in mobile as well as cross screen," said Anna Bager, SVP and General Manager of Mobile and Video with IAB. "We will be able to get a clearer picture of growing mobile media consumption among consumers, potentially shifting buyer perceptions and behaviors in the process."
To that end, Bager believes analytics hubs should look for ways to offer guidance for video creative – including frequency capping and the best practices for ad skipping and other options. Bager also believes we'll see an increase in original content production.
"This uptick will help solve for the current 'lack of inventory' problem and potentially drive the industry ahead in creating better business models and further increase monetization opportunities.
As for more traditional video outlets, Bager's associate believes we'll see some revision in existing cable laws.
"There will also begin a serious effort to reform decades old regulations governing cable and telecommunications services. A rewrite of these massive laws will bring up a host of issues about data usage and consumer protections. This process will also establish the new framework governing the migration of TV-quality video content to digital platforms, often referred to as Over The Top offerings," said Mike Zaneis, EVP Public Policy and General Counsel at IAB.
ABOUT THE AUTHOR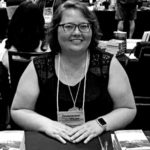 Kristina Knight is a freelance writer based in Ohio, United States. She began her career in radio and television broadcasting, focusing her energies on health and business reporting. After six years in the industry, Kristina branched out on her own. Since 2001, her articles have appeared in Family Delegate, Credit Union Business, FaithandValues.com and with Threshold Media.