Mobile's significant role in the purchase journey means mobile optimization is key
New research released by the Internet Advertising Bureau UK reveals the significant role mobile devices such as tablets and smartphones play in a consumer's purchase journey.
Of the 2,000 UK smartphone owners between the ages of 16 – 70 that participated in the survey, 81% browse the Internet via an app or browser on a daily basis, rising to 90% among those aged between 25 – 34.
In fact, smartphones were the number one device used for looking up product information among smartphone owners, followed by a laptop.
The IAB's survey also illustrated the relationship between mobile and traditional media. More than half (59%) said they were prompted by traditional media to follow up on their smartphone or tablet with television being the biggest trigger. Forty three percent of smartphone owners looked up more information on either their phone or tablet following a television trigger compared with 28% for newspapers, 25% for outdoor and 21% for radio and magazines.
According to the IAB's Senior Research Manager, Hannah Bewley "mobile is the glue that holds other media together".
The findings emphasize the need for retailers and brands to optimize their websites for mobile. More than half (52%) of smartphone owners said they had arrived at a non-mobile optimized site in the last four weeks and more than two-thirds (69%) found this to be a 'frustrating' experience as they were unable to research or transact.
Furthermore, almost three-quarters (73%) of consumers that come across a site not optimized for mobile won't bother to try that site on another device.
Here are some quick and easy ways in which you can ensure your website is optimized for the ever-growing segment of society that are looking for information from a mobile device:
1. Speedy loading – slim down graphics and any other items that may be making your site load slowly on mobile devices.
2. Eliminate fat finger syndrome and keep core functions big and easily accessible.
3. Less is more – strip down content to focus on the main actions your site visitors are likely to use.
4. Implement responsive web design.
5. Reduce the amount of text-entry needed.
6. If you must have a login or registration consider using a social login.
7. Test – what looks great on one device may be a complete turn-off on another, so test mobile websites on as many platforms as possible.
ABOUT THE AUTHOR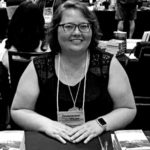 Kristina Knight is a freelance writer with more than 15 years of experience writing on varied topics. Kristina's focus for the past 10 years has been the small business, online marketing, and banking sectors, however, she keeps things interesting by writing about her experiences as an adoptive mom, parenting, and education issues. Kristina's work has appeared with BizReport.com, NBC News, Soaps.com, DisasterNewsNetwork, and many more publications.