Brands must adapt marketing strategies to address the reality of Empty-Nester women
According to the study "the women within this group have been profoundly misrepresented in the media and mis-rendered in marketing and advertising. Everything you've learned about this generation of women as consumers proves untrue as today they immerse themselves in the Internet and, in the process, completely change up their consumer journey".
To illustrate how current thinking differs from the facts, Influence Central laid out three common myths about female Empty-Nesters.
Firstly, perhaps the most "dramatically false" myth is that female Empty-Nesters don't "get" today's technology. While they might not have grown up in the digital age, the vast majority involve themselves in social media (90% have a Facebook account and consider themselves "texters"). Furthermore, they have embraced technology, including mobile, when it comes to researching and conducting purchases. More than 8 in 10 spend more time browsing online than in a physical store, 65% use their smartphone to search for product information and nearly two-thirds make purchases via a tablet.
"Today's Empty-Nesters feel confident, tech-savvy, and highly connective online, yet marketers still stereotype them as passively consuming traditional media and swept up in advertising," writes Influence Central's CEO and founder, Stacey Debroff, on the company blog.
The second myth identified is that Empty-Nesters' purchasing decisions are driven by traditional media such as print and TV ads. According to Influence Central's survey, that couldn't be further from the truth. In fact, just 11% agreed that they trust what they read in print ads or broadcast on television. Instead, first- and third-person reviews are what play major roles with almost 80% of Empty-Nesters more likely to purchase a product that receives a high star rating in a "retail e-commerce review" and three-quarters are influenced by products that receive a positive first-person review. Blogs also play an important role with 45% more likely to purchase a product if a blogger they follow makes a recommendation.
"Empty-Nesters are embracing social media and today's online recommendation culture, ignoring and disliking advertising, and completely redefining their consumer journey," says Debroff.
Finally, the myth that Empty-Nesters aren't keeping up with the times is nonsense. Instead of languishing in the past and refusing to change, 70% say they believe they are the first to try out new things, turning to social media to keep abreast of news and trends.
ABOUT THE AUTHOR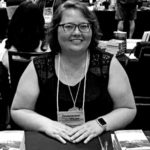 Kristina Knight is a freelance writer based in Ohio, United States. She began her career in radio and television broadcasting, focusing her energies on health and business reporting. After six years in the industry, Kristina branched out on her own. Since 2001, her articles have appeared in Family Delegate, Credit Union Business, FaithandValues.com and with Threshold Media.