Jivox: Older ad formats hurting advertisers
"The majority of the advertising world still has no idea that they could double their ROI by simply switching out the old-school ad formats they use," said Diaz Nesamoney, CEO and founder of Jivox. "We found that engagement increased by more than 100 percent when using the new IAB Rising Stars formats. This is a no brainer for smart advertisers, agencies and publishers, who want to create highly engaging ads that can scale."
According to the 2014 Benchmark Report: Rising Stars Ad Units report IAB 'rising star' ad units outperform IAB 'classic' ad units even though standard banners make up a larger share of online ad buys. Some interesting takeaways from the report include:
• Interactivity rates for rising star units increased 31.4%
• Viewability was the largest predictor of engagement, outpacing placement and size
• Multi-screen ads saw interactions increase 30%
"The increasing capabilities of digital advertising formats, like IAB Rising Stars, provide new opportunities for marketers to engage prospects and turn them into customers," said Peter Minnium, Head of Brand Initiatives, IAB. "The benchmark data from Jivox support what we continually see first hand at the IAB, which is that personalized, interactive ads are a crucial component of any successful digital campaign.It's time to put an end to the tyranny of the legacy banner ads and by adding brand-friendly Rising Stars to the mix."
ABOUT THE AUTHOR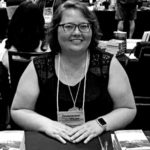 Kristina Knight is a freelance writer based in Ohio, United States. She began her career in radio and television broadcasting, focusing her energies on health and business reporting. After six years in the industry, Kristina branched out on her own. Since 2001, her articles have appeared in Family Delegate, Credit Union Business, FaithandValues.com and with Threshold Media.