Study: Sales, marketing disconnect resulting in bad customer experience
According to new data out from Showpad and Demand Metric, just over half of sales and marketing pros agree that when a bad sales experience occurs there is an immediate loss in opportunity for the business. That lost opportunity can take months or even years to repair, which means the company doesn't just lose that one sale, but other potential sales that would have been made moving forward.
"We have seen that the cost of a bad sales experience is high, with most companies leaving millions on the table. Fortunately there are powerful solutions to help companies to overcome these challenges," said Pieterjan Bouten, Co-Founder and CEO, Showpad. "Delivering the right content, in context, at the right time has proven to be critical to avoid a bad sales experience."
Some interesting takeaways from the report include:
• 70% of sales pros report 'striking out' when engaged with qualified prospects
• 64% of sales pros believe marketing content is 'neutral to ineffective'
• 76% of marketing pros believe their content is 'effective'
• 47% of sales pros report they 'don't get support' from the marketing department
"The results of this recent survey clearly show that companies across the board are consistently losing revenue because of bad sales experiences," said Jerry Rackley, Chief Analyst, Demand Metric. "We've been able to derive some valuable insights that can help the marketing and sales functions understand how to better collaborate to ensure that bad sales experiences become a thing of the past."
Most marketing and sales pros admit there is a breakdown between their departments, but in this report neither 'side' admitting culpability in the miscommunications that cause prospects to turn away from sales calls.
ABOUT THE AUTHOR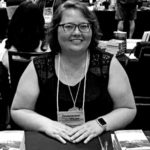 Kristina Knight is a freelance writer with more than 15 years of experience writing on varied topics. Kristina's focus for the past 10 years has been the small business, online marketing, and banking sectors, however, she keeps things interesting by writing about her experiences as an adoptive mom, parenting, and education issues. Kristina's work has appeared with BizReport.com, NBC News, Soaps.com, DisasterNewsNetwork, and many more publications.