Top 3 tips to improve SMS customer service
Kristina: Why is SMS only now gaining ground for customer service:
John Huehn, CEO, In The Chat: Customer service, traditionally handled over the phone, moved quickly into email and web chat over the past few years. Then, text messaging and social media grew in popularity around the same time. Businesses felt an urgency to get on social media because of its public nature, and text messaging was put on the back burner for the time being.
However, today text messaging is actually more pervasive than social media and provides a more private, accessible experience that many customers prefer for their service inquiries. Now, companies are realizing the power and ubiquity of text messaging to reach and engage with their customers in a cost-effective way.
Kristina: What has changed to bring SMS messaging back to the radar?
John: When you ask smartphone users if they would rather call or text a company for customer service, the answer will almost always be text. This is likely because SMS offers two major benefits: convenience and privacy. Users no longer have to download an app, wait on hold via phone or navigate websites to address their customer service needs. Additionally, SMS allows for a much faster response while still maintaining the one-on-one conversation quality that customers appreciate.
Kristina: Why is SMS a good channel for customer service?
John: The potential for SMS messaging for customer service is enormous. 75 percent of North Americans use SMS, sending an average of 72,760 text messages every second. The 2.3 trillion text messages that American mobile users are sending each year is even slightly higher than the 2.29 trillion voice minutes they are using. The demand for a customer service solution that meets the needs of a texting generation is at its peak.
SMS enables companies to give their customers the gift of time and convenience. Consumers are now able to get full customer support on the go without waiting on the phone, standing in a line or sitting at a computer. Consumers have the ability to text a hotel to make reservations from a cab, ask where to find a product as they stroll through a big box store or make a change to their cable service from the train or bus.
Kristina: What are your top 3 tips for brands implementing an SMS customer service strategy?
John: a. Communicate clearly and concisely: Clearly communicate with your customers that you're ready to respond to text messages. Promote the number you've chosen to be reached at, because whether it's a short code or toll-free, you need to make it easy for your customers to find you. When responding to inquiries, do so concisely and accurately, so that each SMS engagement is truly meaningful.
b. Be consistent: You will need to have a dedicated agent or team of agents ready to respond to inquiries. Your support team needs to be committed to engaging in a timely and consistent manner, so you can build confidence in your new channel. Customers will expect immediate service through SMS, and that's what they should receive every single time.
c. Measure your results: Make sure to track cost savings, customer satisfaction and loyalty since those are three important metrics in tracking your ROI. At the end of the day, SMS must provide bottom-line business results in order to be effective.
ABOUT THE AUTHOR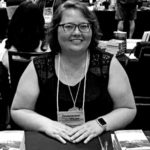 Kristina Knight is a freelance writer based in Ohio, United States. She began her career in radio and television broadcasting, focusing her energies on health and business reporting. After six years in the industry, Kristina branched out on her own. Since 2001, her articles have appeared in Family Delegate, Credit Union Business, FaithandValues.com and with Threshold Media.