Top 3 tips to implement strong one-to-one campaigns
Kristina: Why is one to one marketing so important for online brands?
Loretta Jones, VP of Marketing, Insightly: By analyzing data such as calls to customer service, location, personal information and order history, marketers can identify opportunities that build and strengthen relationships between brands and consumers.
Kristina: What are your top 3 tips for implementing 1-to-1 tactics?
Loretta: As a marketer, I want loyal and satisfied customers. The trick for small businesses like Insightly is to come up with effective, affordable programs that improve our relationship with our customers. We have hundreds of thousands of customers, so it can be a challenge to find ways to give each individual that one-to-one experience. Companies with a similar business model can implement these tactics, measure their return and customer feedback, and adjust accordingly to optimize each program. Here are a few ideas:
• Nurturing email campaigns allow companies to insert personalized or customized messages into regular communications, such as monthly bills or newsletters, and help build more meaningful relationships.
• Another way to quickly engage and interact with customers is through social media. We respond to individual inquiries from customers to help solve service issues in a timely fashion and assure our customers that we're listening.
• Analyze how your customer interacts with the application and then feed this information to your product group so that it is top of mind as they add new product features.
Kristina: Is this strategy budget friendly? Why?
Loretta: It's possible for companies to implement one-to-one marketing strategies that allow brands to connect with customers at a low cost, but on a mass scale. Email marketing has a return on investment of 4,300 percent, meaning even a small investment in an email campaign will yield significant results and impact to the business. This is ideal for small businesses that don't always have a substantial marketing budget, if any.
More from Loretta and Insightly next week, including how one-to-one marketing can increase loyalty.
ABOUT THE AUTHOR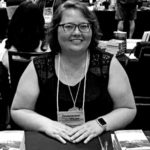 Kristina Knight is a freelance writer based in Ohio, United States. She began her career in radio and television broadcasting, focusing her energies on health and business reporting. After six years in the industry, Kristina branched out on her own. Since 2001, her articles have appeared in Family Delegate, Credit Union Business, FaithandValues.com and with Threshold Media.