Rewards key to in-app ad engagement
Eighteen months ago, Tapjoy released findings that found consumers were not entirely happy with their in-app advertising experiences.
Back then, 7 out of 10 said in-app ads interrupted their mobile experience and two-thirds found them annoying. Just 17% found in-app advertising interesting and fewer, just 12%, found them engaging.
In Tapjoy's recent research, 'The Value of Rewarded Advertising', based on a survey of 1,500 U.S. smartphone owners, little has changed. Three-quarters now say automatically served in-app ads are annoying, 69% say they make it harder to enjoy the task they set out to do and almost two-thirds say they are interruptive.
What has changed is that today a whopping 93% of smartphone owners use mobile apps on a daily basis, spending an average of 3 hours engaged with them.
The most-used apps are social networks followed by music, navigation/mapping and finance/banking. This increased focus on apps among consumers makes it all the more important to a brand to get their in-app advertising right and avoid damage to their brand reputation through unnecessary disruption and irrelevant messaging.
How can advertisers make in-app advertising more acceptable to users? By rewarding them.
Over two-thirds of those surveyed said they want to be rewarded for viewing an in-app ad. Such rewards could be premium content or virtual currency. The reward for brands is that such relevant ads promote positive feelings towards a brand, more so than ads that do not offer a reward.
According to Tapjoy chief marketing officer Peter Dille, not only are mobile users engaging more with rewarded advertising, they prefer it, particularly when they are offered a choice of ads to engage with. Half (49%) of mobile users surveyed said they would like to select between several ad options and decide which company ad they're most interested in.
"Rewarded in-app advertising takes into account just how personal our mobile devices are and the fact that we're in a different mindset when we use them," says Dille. "Rewarded advertising respects the consumer's role in the advertising ecosystem, which is why advertisers that use it are seeing higher brand affinity and deeper engagements than any other type of advertising."
Other key findings from Tapjoy's report include:
– Three-quarters say they are willing to share digital contact information in return for rewards; more than half will share basic demographic data such as age, gender and ethnicity;
– Incidents of accidental clicks are less likely with rewarded in-app ads – just 10% said they clicked on such an ad by mistake compared with 15% for video ads and 22% for static ads;
– The most common in-app rewards are those can be used in the app (77%), 69% in-game currency, 31% unlock content and 29% unlocking a game level.
A free copy of Tapjoy's whitepaper can be downloaded here, while those wishing to learn more about rewarded advertising can register to attend a webinar on the topic here.
ABOUT THE AUTHOR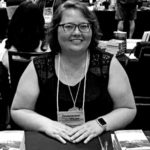 Kristina Knight is a freelance writer with more than 15 years of experience writing on varied topics. Kristina's focus for the past 10 years has been the small business, online marketing, and banking sectors, however, she keeps things interesting by writing about her experiences as an adoptive mom, parenting, and education issues. Kristina's work has appeared with BizReport.com, NBC News, Soaps.com, DisasterNewsNetwork, and many more publications.