Cartonomy: Social shopping cart helps moms save time, money
According to new research released today from social shopping solutions firm Cartonomy women, and more especially moms, who head out to do the grocery shopping usually end up overspending on unplanned items.
The '2014 Shop of Mom Report' reveals that 42% of moms say they end up buying unnecessary items and that can cost them a lot of extra cash. One in four find themselves overspending to the tune of at least $50 every time they go to the store – for a mom that shops on a weekly basis that's a whopping $2,600 in unplanned spending each year. Furthermore, 7% of moms that overspend can do so to the tune of $100.
Cartonomy's report also found that:
– 25% of moms whose kids create conflicts during family trips to the store cause mom to waste at least half a hour each trip;
– More than a quarter (28%) of moms are so rushed during their regular family shop that they fail to notice significant cost-saving deals;
– 63% of those Americans interested in group shopping would be more likely to do so if they could be guaranteed the best prices or special online-only deals.
According to Jack Lowinger, CEO of social shopping cart Cartonomy, today's mom has to battle distractions of having kids in tow and contend with impulse purchasing generated by store displays. What moms really need, says Lowinger, is "an easier, more customized and collaborative shopping experience tailored to them and the needs of their families".
That's where Cartonomy comes in. The social shopping cart enables moms to prepare a shopping list with the help of the rest of the family and then shop effectively online by using built-in price comparisons. Cartonomy also allows mom to administrate the purchases added by others in the family to ensure there are no excessive or unnecessary products added.
"Overall, collaborative group shopping online is a much more viable alternative to routine family shopping trips to physical retail stores, as it helps moms navigate around costly unplanned purchases or unexpected delays," says Lowinger. "It is also a great way to take the benefits of online shopping to the group level, opening mom's shopping cart to the whole family without the need to share logins or credit card numbers."
ABOUT THE AUTHOR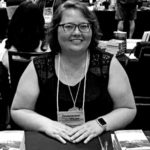 Kristina Knight is a freelance writer with more than 15 years of experience writing on varied topics. Kristina's focus for the past 10 years has been the small business, online marketing, and banking sectors, however, she keeps things interesting by writing about her experiences as an adoptive mom, parenting, and education issues. Kristina's work has appeared with BizReport.com, NBC News, Soaps.com, DisasterNewsNetwork, and many more publications.