Ecommerce releases simplify targeting, engagement
First, Moxie has acquired SimplyBox's technology giving them the ability to offer real time, contextual targeting data to customers. The technology should help Moxie's clients offer the right digital engagement channel to their customers.
"The acquisition of the SimplyBox technology broadens Moxie's capabilities and will allow enterprises to engage customers as soon as they step through the 'online' door," said Rebecca Ward, Moxie's president and CEO. "Moxie is changing the way ecommerce is done. When today's consumers try to do business with a company on a mobile device or on the web, the experience feels like entering an empty storefront – there is no one there to help you. With Moxie, enterprises have a unique opportunity to increase conversions and, more importantly, realize full customer value by engaging with them throughout their journey."
Moxie allows brands to anticipate customer intent, connect with customers in real-time and engage using the most appropriate communication channel across devices
Meanwhile MarketLive has launched a B2B ecommerce solution which allows merchants to manage B2B and B2C campaigns within the same platform.
"We recognized the need among many of our retailers to provide a simple, focused B2B option to our core MarketLive platform. Based on requests from a wide variety of prospects and customers, we created a right-sized solution that provides critical B2B functionality without expensive overhead," said Ken Burke, founder and CEO of MarketLive, Inc. "Our Market Focused B2B Solution is affordable, easily implemented and able to maximize brand effectiveness across both channels."
ABOUT THE AUTHOR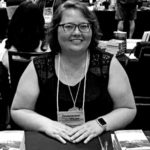 Kristina Knight is a freelance writer based in Ohio, United States. She began her career in radio and television broadcasting, focusing her energies on health and business reporting. After six years in the industry, Kristina branched out on her own. Since 2001, her articles have appeared in Family Delegate, Credit Union Business, FaithandValues.com and with Threshold Media.