Q&A: Digital agency Overit talks mobile apps and why you need one
I decided to find out what Josh Shea, lead developer at New York-based digital marketing agency Overit, had to say on the topic of mobile app development. Josh started programming back when Myspace was still cool and people still bought CDs. Today, he has over 9 years experience programming high end web applications and websites that have garnered national exposure.
Bizreport: Apps – aren't they just a 'nice to have' mobile gimmick for big brands?
Josh: Not at all – they have great benefits for brands of all sizes. The big thing about a business app – especially retail – is that you can augment or continue the in-store experience on a mobile device. You can allow your users to constantly see your logo on their personal device, and you can maintain communications in a way that the user already trusts. You can extend their 'in-store' experience to their everyday lives by making the application useful to them, and bring the user into a place of thinking of you first when they require services that you cater to.
Outside of retail, any company can leverage an application for a myriad of reasons. Engagement with a brand within an app can be an incredibly effective means to raise brand awareness. If your company has a character as a 'mascot' (think the 'Geico Gecko'), maybe create a world for that character and build a game around it. If it's fun – people will play it, and thus keep you at the forefront of their minds when seeking products/services in your industry. For example, we built an app for a beverage distribution company that highlights where you can actually find your favorite beers. Get creative with it – brands can be fun, brands can be unique. Brands don't always have to be about business.
Bizreport: If a business already has a mobile-optimized website, surely that's enough?
Josh: Not always. Having a mobile-optimized site means that a user has to open a browser, type in your address and consume information. An app is different. You can much more effectively tailor the experience for the user, send the user information via push notifications, and – of course – the user already trusts their device. They can now see your app as an extension of their device, and use it seamlessly – just like any other app they choose to have.
Apps and mobile sites have their place – but most don't realize that it doesn't have to be the same place. A native app – that is, an app on my device – has the ability to do much more than a website, which is restricted to the functionality of a browser. An app can harness the capabilities of the operating system on which it sits – the camera, photo galleries, accelerometers and myriads of other sensors and features that phone and Operating System manufacturers are dreaming up these days.
Bizreport: Ok, the benefits of apps are numerous and beneficial. But, what are the main elements a business needs to consider when developing an app?
Josh: Remember – good applications solve a problem for users. Great apps, however, solve a problem that users may not even realize they have. Look at the market – take stock of the apps that are already out there geared toward your industry and then figure out what they aren't doing. App stores are filled with redundancy and so many apps seem to do the same thing. If you own a shoe store and there's tons of shoe store applications out there that let a user browse and purchase shoes, keep that functionality, but maybe add to it. Maybe add a 'shoe fashion' functionality that lets users choose shoes based on their favorite outfits. Anything that can engage the user beyond the download is key.
The other thing is the interface, and how easily it is for the user to do what they want to do. Apps that are clunky use interface elements that are uncommon or complicated for the user and therefore tend to fail. You want the user to move effortlessly around and make a purchase – or whatever goal you want the users to take – almost like second nature.
App development isn't science, though. The biggest advice I have is to thoroughly know your audience and ask them. Remember, this application isn't about you or your business – it's about the user. The user needs to feel comfortable and the user needs to be able to achieve *their* goals using your application. Don't make assumptions – understand the market.
Bizreport: Previous research has shown that people download apps, use them once, and then forget about them. How does a business keep a user engaged?
Josh: That's very true. The biggest thing to realize is that a user *did* download the application – so at one point they saw value in it – or at least value in the concept of an app for your business. If a user isn't using the application anymore, it's your job to find out why. Maybe it didn't meet their expectations? Maybe it's hard to use? Maybe it just didn't do what they wanted it to do. Knowing these things can help you tailor the experience more to the market.
Further – once an app exists on the device, you can use push notifications to send the user information about deals and incentives perhaps only found for users who use the application – as opposed to 'in-store'. Incentivizing the experience is a great way to boost engagement and keep the user happy at the same time. It all comes down to basic business – the user has to feel like they're getting a great value and that they see some benefit from using your service.
Bizreport: Should a business develop two app versions to cover Android and iOS users, and will that double development costs?
Josh: This really depends on the application, and what it's going to be doing. In many cases, no – this isn't necessarily the case. There are some pretty decent platforms that can allow developers to build apps that work on both of these operating systems and thus reduce development costs.
However, it all depends on what you want the application to do, and how much you want to interface with the rest of the operating system. But again – it goes back to best business practices – you have to weigh the cost with the benefits. If you do the app right, the benefits will totally outweigh the costs.
ABOUT THE AUTHOR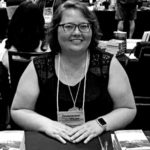 Kristina Knight is a freelance writer with more than 15 years of experience writing on varied topics. Kristina's focus for the past 10 years has been the small business, online marketing, and banking sectors, however, she keeps things interesting by writing about her experiences as an adoptive mom, parenting, and education issues. Kristina's work has appeared with BizReport.com, NBC News, Soaps.com, DisasterNewsNetwork, and many more publications.