Expert: What social really means for ecommerce
Kristina: Over the 2013 holidays we saw just over 10% increase in online retail sales, much of that to big-box stores or retailers. How can small businesses better compete in this crowded space?
Nissim Lehyani, CEO and Co-Founder, Easy Social Shop: The eCommerce space has become very crowded, leaving small businesses feeling as if they're being squeezed out by larger retailers. One way for small businesses to gain an advantage is by focusing their attention on social commerce. Social media gives small businesses the ability to reach a massive potential audience and easily engage with consumers and turn them into customers. If tapped into correctly as a commercial mechanism, social media can be a huge asset to small businesses looking to differentiate themselves in an ever-crowded market.
Kristina: Some experts predicted that 2013 would be the year of social commerce; while more consumers are connecting with brands in the social space, many aren't buying directly from social ads. Why is that?
Nissim: Despite the hype, social commerce failed to live up to high expectations in 2013. But this is less an indicator of social media's potential as a commercial mechanism than a sign that the retail power of social media is misunderstood. Conventional eCommerce advertising consists largely of traditional ads that aim to attract consumers to click on them. When many businesses create a social media presence for themselves they use the same methodology they use for ads. While this is a logical approach, it doesn't take full advantage of the social media atmosphere. Social media is a different creature entirely, making traditional marketing techniques ineffective. Social media is about engagement and interaction, and the more those ideas are integrated into businesses' marketing strategies, the more successful they will be. Additionally, the wealth of data available through social media makes engagement strategies more impactful and allows for more effective targeting.
More from Nissim and Easy Social Shop later this week, including how retailers can better engage shoppers through social.
ABOUT THE AUTHOR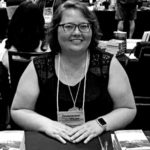 Kristina Knight is a freelance writer with more than 15 years of experience writing on varied topics. Kristina's focus for the past 10 years has been the small business, online marketing, and banking sectors, however, she keeps things interesting by writing about her experiences as an adoptive mom, parenting, and education issues. Kristina's work has appeared with BizReport.com, NBC News, Soaps.com, DisasterNewsNetwork, and many more publications.