UK 'Impatience Index' reveals today's wait-time expectations among consumers
Research commissioned by customer service specialists KANA Software in the UK shows the effect that digital technology and social media has had in transforming consumers' tolerance of waiting times after making a complaint.
According to their findings, the 'expectation reflex' is now measured in minutes rather than working days. While 10 working days was an acceptable time to wait for a response a decade ago, today that has dropped to 10 minutes.
The age groups with the least patience are, unsurprisingly, those at the younger end of the range. Those between the ages of 18-34 check for a response, on average, every 9 minutes and 50 seconds. After that, patience increases to 21 minutes between checking among the 35-44 age group, 36 minutes for 45-54 years old, 1 hour and 30 minutes among those age 55-64 and every 47 minutes among those age 65 and over.
"In the past 10 years, organizations have lost the 'time shield' previously offered by postal services. The sense that a letter was on a journey and could be anywhere between the sender and the recipient has been lost," says David Moody, head of worldwide product strategy at KANA. "Our impression today is that as soon as we press send, 'Mr or Ms Cosgrove in Complaints' should be reading our complaint and working out how to respond. If we don't hear back quickly, our impatience rises."
Additional findings from the survey include:
– Men are slightly more impatient than women, checking a device for a response every 22 minutes and 30 seconds, on average compared to women who check every 26 minutes and 15 seconds;
– One in 20 social media users will check for a response every 10 minutes while one fifth will check at least once per hour.
"Public-facing organisations have to recognize the adoption of social channels is truncating customer service processes. With smartphones acting as digital umbilical cords, the modern consumer is always connected. Unfortunately for service desks, 'working days' are an outdated concept," says Moody. "The technology already exists to support organisations that wish to monitor all channels and deal with queries and complaints in a rapid and personal fashion. Companies that don't adjust their processes in the age of the adept digital consumer will be the losers."
ABOUT THE AUTHOR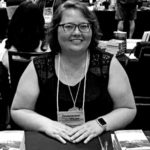 Kristina Knight is a freelance writer with more than 15 years of experience writing on varied topics. Kristina's focus for the past 10 years has been the small business, online marketing, and banking sectors, however, she keeps things interesting by writing about her experiences as an adoptive mom, parenting, and education issues. Kristina's work has appeared with BizReport.com, NBC News, Soaps.com, DisasterNewsNetwork, and many more publications.