Store staff equipped with mobile technology will enhance service and boost sales
In August, 2013, the findings of a survey by Red Ant showed that almost two-thirds (63%) of shop floor staff in physical stores were so lacking in product knowledge that they fob off shoppers with lies, pretend to know more than they do or, worse, hide in the stockroom to avoid awkward questions.
Furthermore, 67% of shoppers said they notice the lack of knowledge among store staff and 40% head online to avoid the ill-informed.
New research from Red Ant shows that arming store staff with technology would greatly enhance their ability to deal with customers and boost sales. A whopping 85% of store staff said their performance, and sales, would greatly improve if they were provided with mobile devices that could help them dispense accurate product or inventory advice.
Among younger members of store staff, those aged between 16 and 24, 78% said they would feel much better about going to work if they were provided with technological support. Among them, 60% say they are comfortable using mobile devices and apps in their everyday lives and would be just as comfortable using them in their job.
In particular, almost half of younger staff members would feel more valued by their employers if provided with shop-floor technology, a third would be more enthusiastic in their job and 40% believe they could do their job better.
"Our research shows that shop floor staff really believe they could increase sales if they had an iPad on hand to provide additional product information and a quicker, more valuable service for customers," says Dan Mortimer, CEO of Red Ant. "Retailers should be using technology to empower their frontline employees with the ability to provide better customer service and keep customers coming back for more."
In November last year, a survey of 13,000 consumers from 20 different countries by BuzzCity found that 20% of consumers use their mobile in-store to find out product information as it is quicker than asking a store assistant. This again highlights the need for stores to arm staff with the latest technology and tools to enable them to provide fast and accurate service on the shop floor.
ABOUT THE AUTHOR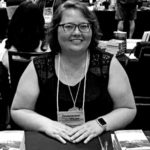 Kristina Knight is a freelance writer based in Ohio, United States. She began her career in radio and television broadcasting, focusing her energies on health and business reporting. After six years in the industry, Kristina branched out on her own. Since 2001, her articles have appeared in Family Delegate, Credit Union Business, FaithandValues.com and with Threshold Media.