Reports: Valentines to be a hot digital holiday
Last year the National Retail Federation reported Valentines shoppers spent nearly $19 billion. According to data just out from Adroit Digital, this year Valentines Day shoppers are most likely to hit online retailers (59%) for gifts – including tablets and smartphones. Other interesting findings include:
• 48% will make Valentines purchases in the first week of February
• 58% say online/mobile ads will influence their buys
• 59% say they will visit 3 or fewer stores before making a purchase
• 64% say they're looking for free shipping offers
• 48% say they're looking for Valentines 'specials'
"The winning formula for retailers this Valentine's Day is recognizing the significant role that online ads will have in influencing purchase decisions. Shoppers are more likely to buy online if the ads they encounter are personalized," said Scott German, GM of Adroit Digital. "If that's not taken in to account, then retailers stand to miss out on billions of dollars in a two-week window."
Meanwhile Ebates has released the hottest gifts for this Valentines Day. Their top findings: men are looking for gift cards while women are looking for flowers. Other hot items this year: Men are looking for smartphones or gaming consoles like Xbox or Playstation while women will likely be happy with jewelry, chocolates or clothing.
ABOUT THE AUTHOR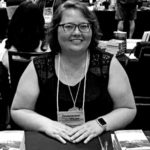 Kristina Knight is a freelance writer based in Ohio, United States. She began her career in radio and television broadcasting, focusing her energies on health and business reporting. After six years in the industry, Kristina branched out on her own. Since 2001, her articles have appeared in Family Delegate, Credit Union Business, FaithandValues.com and with Threshold Media.