Top 3 tips to improve SMB security
Conventus Corporation has released a list of mistakes that many small businesses make that may leave them susceptible to attack or other vulnerabilities – things like not having enough expertise on the tech end of things or believing because a business is small that hackers or fraudulent types will ignore it. Unfortunately that isn't true. How can SMBs increase their security?
First, not matter the size, make sure online security protocols are top of the line – don't use freeware. Instead, invest in quality security software that will lessen the ability of hackers to get in to private business areas. Along that same line, make sure employees are aware of security protocols and enforce those policies.
Second, educate all staff on the importance of security, and for those who are in charge of tech make sure they are properly vetted.
"In small businesses, technical expertise is generally not deep – rather, the folks in charge of protecting data are often performing other job functions in the company. If your staff lacks expertise in a given area, it is important to invest in regular health check with subject matter experts to ensure each solution you have in place continues to remain optimally configured, and operating at peak performance," writes the company.
Finally, check and recheck policies, content and back-end areas to make sure there are no holes in the programming. Conventus notes an example in which a company administrator manually input a policy that included a typo. That typo left an area that was susceptible to attack for fraudsters.
ABOUT THE AUTHOR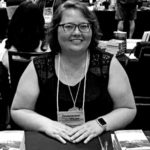 Kristina Knight is a freelance writer with more than 15 years of experience writing on varied topics. Kristina's focus for the past 10 years has been the small business, online marketing, and banking sectors, however, she keeps things interesting by writing about her experiences as an adoptive mom, parenting, and education issues. Kristina's work has appeared with BizReport.com, NBC News, Soaps.com, DisasterNewsNetwork, and many more publications.