Reports show what worked and didn't over Thanksgiving
According to DG analyst Michael Froggatt, ad requests peaked on Black Friday this year where in year's past ad requests peaked before Black Friday hit.
"Last year there were reports of Black Friday being much more successful – I've isolated both 2012 and 2013 data to 9 days before Thanksgiving through to Cyber Monday. The trend last year shows a peak two days before Thanksgiving, while this year retailers peaked on Black Friday itself. We can draw a conclusion that this, combined with reports of average sales being down, indicates that last minute display and deal offers drove potentially more shoppers but at discounted prices lowering retailers average take," said Froggett."
Meanwhile, Engagor has studied how the social space impacted the Thanksgiving holiday weekend, which may show brands how to better use the social space not only through the 2013 holidays but also through 2014. According to Engagor 30% more social consumer stalked about Black Friday than Cyber Monday deals; for those interested in Cyber Monday deals, conversations about Amazon led the chatter. Other interesting findings include:
• Black Friday received 2.37 million mentions
• Cyber Monday received 714,093 mentions
• Walmart received the most mentions, driven by fights and strikers, of Black Friday
As for the sentiment of the conversations, Black Friday shoppers were mostly happy they survived the crowds while Cyber Monday shoppers were most likely to post about the deals they received.
And Bronto analyzed campaigns leading up to the big Thanksgiving weekend. Their biggest finding: most retailers weren't banking on Black Friday or Cyber Monday to draw in shoppers. Likely because Thanksgiving fell so late in November, their analysis underlines the 'early' factor – showing how many retailers began advertising early and didn't always hit the Black Friday or Cyber Monday touchstones to engage.
Instead, ads and flyers used Black Friday or Cyber Monday branding but noted that sales had already started, encouraging shoppers to come into stores – or check online sites – early and often to get the good deals.
ABOUT THE AUTHOR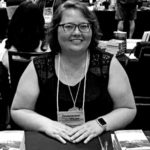 Kristina Knight is a freelance writer based in Ohio, United States. She began her career in radio and television broadcasting, focusing her energies on health and business reporting. After six years in the industry, Kristina branched out on her own. Since 2001, her articles have appeared in Family Delegate, Credit Union Business, FaithandValues.com and with Threshold Media.