Pinterest's top festive retailer is… Amazon
In the run up to Christmas, 2013, the average number of Pins generated from Amazon content is 16,360 per week. That's huge compared to the next biggest, Walmart, with 5,778 Pins and way ahead of Apple.com's 3,871.
All ten retailers have set up their own official Pinterest pages with thousands of followers. QVC.com has the highest number of followers with 42,683 compared to Walmart's 33,337.
Amazon – 16,360 pins per week, 1,740,314 total pins, 5,637 followers.
Walmart – 5,778 pins per week, 529,992 total pins, 33,337 followers.
Apple – 3,871 pins per week, 1,111,959 total pins, 1,597 followers.
QVC -325 pins per week, 54,935 total pins, 42,683 followers.
Staples – 307 pins per week, 17,252 total pins, 2,025 followers.
Best Buy – 281 pins per week, 60,630 total pins, 4,047 followers.
Netflix – 202 pins per week, 7,802 total pins, 445 followers.
Sears – 29 pins per week, 1,511 total pins, 190 followers.
Office Depot – 27 pins per week, 2,635 total pins, 1,994 followers.
Dell – 9 pins per week, 2,715 total pins, 1,160 followers.
Some brands have also set up themed Christmas boards – Walmart has several relating to different festive activities such as baking, decorating the tree and gift ideas. Interestingly, not all of Walmart's Pins are of products or brands they sell. Instead, the retailer has provided its followers with content from other blogs and websites that they will find useful or entertaining.
"Pinterest provides a powerful way of sharing content that increases engagement and helps retail brands develop closer relationships with their customers. While Amazon.com leads the way due to its strong online presence, retailers such as QVC seem to be investing heavily in using Pinterest to connect with consumers," said Marcus Tober, CTO and founder of Searchmetrics,
ABOUT THE AUTHOR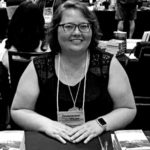 Kristina Knight is a freelance writer with more than 15 years of experience writing on varied topics. Kristina's focus for the past 10 years has been the small business, online marketing, and banking sectors, however, she keeps things interesting by writing about her experiences as an adoptive mom, parenting, and education issues. Kristina's work has appeared with BizReport.com, NBC News, Soaps.com, DisasterNewsNetwork, and many more publications.