Millennials are not looking to Facebook for fashion inspiration
A survey of 1,005 women in the U.S. by social intelligence firm Netbase reveals that, of the 17% that fell into the Millennial demographic, 28% were social shoppers – twice as many as across all female social media users. Almost all (83%) of Milliennials said they consult at least once social platform before making a fashion purchase.
But Facebook, the big-daddy of all social media destinations, was not their top influencer when it came to fashion. Instead, fashion blogs and message boards were the main source of inspiration and influence, cited by 63% of Millennials, while 54% cited Facebook.
Similarly, the move to visual stimulation is clear and, obviously, is particularly attractive to those seeking fashion trends. When looking for fashion inspiration over half of Millennials (58%) turn to Pinterest and 49% browse Instagram.
"Millennials represent the biggest source of future buying power for fashion brands, and this report confirms the influence social media plays in their decision making process," said Gretchen Hoffman, vice president of marketing for NetBase. "The necessity of accurate data for understanding specific consumer segments is critical in crafting intelligent social marketing strategies that take into account their distinctive behaviors in consulting social media."
Netbase's consumer consumer study in the fashion industry is available online for free download.
ABOUT THE AUTHOR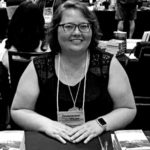 Kristina Knight is a freelance writer with more than 15 years of experience writing on varied topics. Kristina's focus for the past 10 years has been the small business, online marketing, and banking sectors, however, she keeps things interesting by writing about her experiences as an adoptive mom, parenting, and education issues. Kristina's work has appeared with BizReport.com, NBC News, Soaps.com, DisasterNewsNetwork, and many more publications.