How shoppers will buy through 2013
Bounce rates count customers who enter a store but leave within five minutes. The good news is that while bounce rates were up for the YoY period, they had decreased between September and October, perhaps signaling a more purchase-focused customer base. Based on October's numbers, Euclid predicts the 2013 holiday shopping season may see slight increases over 2012 numbers.
Researchers with CleverBridge agree with the sentiment. According to their predictions online spending through the 2013 holiday season will increase at least 15%, pushing past the $60 billion mark for November and December. Their new infographic shows 2 in 5 US shoppers have already begun making purchases.
Three of the biggest shopping days are just ahead: Thanksgiving Day, Black Friday and Cyber Monday. According to the 2013 Accenture Holiday Shopping Survey more than one-third of Americans will shop on Thanksgiving Day with 41% saying they'll start shopping by 6pm Thanksgiving night and conclude by 5am on Black Friday. Other interesting findings from Accenture include:
• 38% of Thanksgiving Day shoppers say they'll hit 4 or more stores
• 55% of Thanksgiving Day shoppers will be between ages 18 and 24, 61% will be between 25 and 34
• Most young shoppers will buy in-store
• Women are most likely to shop on Thanksgiving Day
"Consumers voted with their feet on the subject of Thanksgiving Day shopping in 2012 and we expect to see even more stores throwing the doors open before midnight on Thanksgiving Day this year," said Chris Donnelly, Global Managing Director, Accenture Retail. "Increasingly shoppers want to shop at their favorite stores, whenever they want and however they want, and retailers have to decide how they are going to respond to this demand. In a season of almost permanent discounts, many stores have decided they need an event like a Thanksgiving Day opening to help generate excitement and an urgency to buy. For many consumers, Thanksgiving Day and Black Friday shopping has become a two-day 'doorbuster' bonanza."
As for Black Friday, 55% of those surveyed say they'll hit the stores that day with nearly half believing the best deals of the season will be had over the Black Friday weekend.
ABOUT THE AUTHOR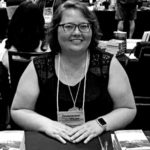 Kristina Knight is a freelance writer based in Ohio, United States. She began her career in radio and television broadcasting, focusing her energies on health and business reporting. After six years in the industry, Kristina branched out on her own. Since 2001, her articles have appeared in Family Delegate, Credit Union Business, FaithandValues.com and with Threshold Media.