Report: Revenues stalling because shoppers switch
According to the ninth annual Accenture Global Consumer Pulse Survey more than half (51%) of US shoppers switched phone plans in the last year because of 'poor customer experience'. Most 'switching' is occurring in retail banks, cable/satellite providers and retail stores. But, all the news isn't bad. The report also shows that savvy brands – those who take this 'switching economy' into account could increase their revenue totals.
Researchers suggest there is more than $1 trillion in revenue out there for brands who woo these 'switchers' and keep them happy.
"Changing customer behaviors in the digital marketplace and low levels of customer satisfaction are fueling a switching economy that presents opportunities as well as threats. But too many companies are playing not to lose instead of playing to win in this switching economy," said Robert Wollan, global managing director, Accenture Sales & Customer Services. "Growth is harder to come by in many sectors but the switching economy presents a source of new, sustainable, profitable growth for companies that are playing to win and gain market share. To win requires an aggressive approach that goes beyond implementing technology to creating genuinely engaging customer experiences that today's nonstop customers are seeking but obviously not finding with their current providers."
What's a brand to do to find, engage and keep these shoppers?
First, up the customer service factor. The research shows customer services issues lead most shoppers to switch brands. Today's shoppers want to contact a company once and get an answer, and they do not like being left on hold for long periods of time. And, while on call or communicating via email or chat, these shoppers don't want to repeat their issue to multiple representatives.
Second, make it simpler for shoppers to buy – online and in-store. According to Accenture 85% of those surveyed have been frustrated by a brand's sales practices – from making it hard to check out, to offers that don't come through or inconsistent shopping experiences.
Finally, get personal. Tailor shopping experiences to the shopper – use previous purchases, online behaviors and other analytics to offer relevant product suggestions. Engage through social media to access rich social data and while in the social space, pay attention to what shoppers are saying – both the good and the bad.
ABOUT THE AUTHOR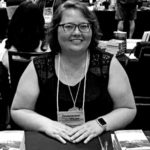 Kristina Knight is a freelance writer based in Ohio, United States. She began her career in radio and television broadcasting, focusing her energies on health and business reporting. After six years in the industry, Kristina branched out on her own. Since 2001, her articles have appeared in Family Delegate, Credit Union Business, FaithandValues.com and with Threshold Media.