How people are engaging with mobile, digital content
Unisphere researchers found the bulk of branded content was in the form of article/video clips. However, the report also found a blip on the content creation screen: content isn't being created for specific channels. Instead, many are using the same content across channels, which may not be the best use of their content dollars.
Meanwhile, the September MobileSTAT report from JumpTap shows that auto ads are grabbing more mobile users' attention. Credited to the use of rich media, JumpTap's data shows that tablet users are engaging 180% more with mobile auto ads which offer multiple features. Other interesting findings include:
• Drivers of trucks are most likely to use Android devices, SUV-minded consumers are most likely using Apple devices
• Wyoming is the most likely state to have drivers of trucks engaging via mobile device
• Auto details are most likely consumed in the early morning (7a-10a) via PC or early evening (5p-8p) via mobile device
It isn't just auto buyers who are engaging more often via mobile device. Consumers are looking for all types of content from user-generated videos and Hollywood produced, long form content on mobiles. While more and more are watching video, many are also reading content from favorite publishers. According to PQMedia's recent digital media spending forecast the digital media content and technology spend will push $1 trillion by 2017.
• Digital media spending (consumer) is expected to reach $259.48 in 2017
• The US is leading the digital consumption rate with China close behind
• Digital media spending was responsible for more than half of total media content spending (2012)
ABOUT THE AUTHOR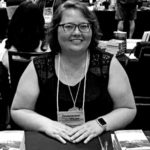 Kristina Knight is a freelance writer based in Ohio, United States. She began her career in radio and television broadcasting, focusing her energies on health and business reporting. After six years in the industry, Kristina branched out on her own. Since 2001, her articles have appeared in Family Delegate, Credit Union Business, FaithandValues.com and with Threshold Media.