Predictive dialer pause puts off otherwise responsive consumers
Used as a telemarketing tool, predictive dialers increase talk time for marketers because they ensure agents only make contact with telephone numbers that have a real person answering the call. Calls that end with busy signals, answering machines, fax machine tones or even disconnection messages are dropped and flagged.
While marketers find them useful, predictive dialers can prove annoying for consumers who are often confronted with a pause between the time they answer the telephone and the time the call is actually connected to an agent.
In a study of 2,034 U.S. adults by customer center software and tools provider inContact, conducted by Harris Interactive, that pause if the reason that half (49%) of consumers hang up.
And yet, the same research shows that the majority of consumers who will answer calls from unfamiliar numbers (87%) aren't averse to being proactively contacted by companies and organizations.
But, that pause gets in the way of contacting those that marketers most want to engage – people willing to answer an unfamiliar number and engage with agents. The survey showed that the predictive dialer's inevitable pause turns off more than half (55%) of consumers who would otherwise "be more receptive to what the caller might have to say and/or more interested in hearing who's calling them from an unfamiliar number". Twelve percent would take the call but go on to ask the caller to remove them from future communications.
In fact, one in five of those who answer calls from unfamiliar numbers believe the pause conveys to them the message that they are of little importance to the callers.
"The survey shows that consumers are open to companies contacting them proactively but they would want them to do so in a way that meets their individual needs and preferences. Forward-thinking companies are taking the initiative to create pleasant, positive interactions that improve the way their customers perceive them," said Paul Jarman, CEO of inContact.
When asked the most popular reason why they would want to be contacted by telephone 65% of respondents said "about fraudulent activity on their account", just over half (53%) cited setting appointments or reminders, and 51% said "about an order they placed".
Of course, there are those who will never get a call from a predictive dialer – those who have signed up to the Do Not Call registry. Nearly two-thirds (64%) of U.S. adults have done so – 80% of those age 45 and older, 64% of those between the ages of 35-44 and 36% of those age 18-34.
ABOUT THE AUTHOR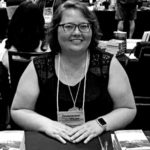 Kristina Knight is a freelance writer with more than 15 years of experience writing on varied topics. Kristina's focus for the past 10 years has been the small business, online marketing, and banking sectors, however, she keeps things interesting by writing about her experiences as an adoptive mom, parenting, and education issues. Kristina's work has appeared with BizReport.com, NBC News, Soaps.com, DisasterNewsNetwork, and many more publications.