Evolving spammers using bogus social media email to fool users
According to the survey, 'Email Spam and Related User Behavior' nearly all (94.7%) Americans have received spam email containing a malicious virus or spyware. However, while most are aware that unsolicited email with strange subject lines could be dangerous, 30% came close to opening an attachment and infecting their computer, while 8.8% actually did so.
But spammers are evolving along with email users and their online activities. To this end, spam email claiming to originate from a social media website such as Facebook is on the rise, accounting for 15.2% of spam, just short of email claiming to come from financial institutions (15.9%).
"Users have become more aware of the threats they face, but spammers have also become craftier in disguising these messages," said Halon's North American CEO and co-founder, Jonas Falck. "Web hosting and email service providers don't always prevent spam email threats from being delivered, so people need to be careful when encountering suspicious emails that may hijack their computer or render it inoperable."
Key findings from Halon's survey include:
– 1 in 3 Americans admit they would open an unsolicited email, even if it appears suspicious, depending on the subject line;
– Women are particularly prone to opening spam email purporting to come from a social network;
– Men are more likely to fall foul of spam promising financial rewards or naked images of celebrities and friends;
– The subject line is what alerts most people to spam (70.5%), particularly when it is all in caps;
– Other indicators that an email was spam were the sender's email address (67.9%), strange formatting (62.4%) and strange language (56%).
ABOUT THE AUTHOR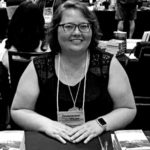 Kristina Knight is a freelance writer with more than 15 years of experience writing on varied topics. Kristina's focus for the past 10 years has been the small business, online marketing, and banking sectors, however, she keeps things interesting by writing about her experiences as an adoptive mom, parenting, and education issues. Kristina's work has appeared with BizReport.com, NBC News, Soaps.com, DisasterNewsNetwork, and many more publications.