eBay launches new platform aimed at in-store sales staff
The new retail app is for use by sales staff in a physical store, and works on tablets that employees carry around the store. Called the Retail Associate Platform, it can supply information about past customers, such as their previous purchases, items they have browsed on the store's website, and their product preferences.
The app also provides store staff with inventory available in other stores and online, allowing them to order another size or color directly from the mobile device. It can also suggest potential purchases based on a shopper's style and preferences.
Customers who have an account with PayPal, the online and mobile payment company owned by eBay, simply check in on their smartphone using bluetooth technology when they enter a store, alerting sales staff to their arrival.
According to eBay head of retail innovation, Healey Cypher, the Retail Associate Platform brings "web-grade thinking into the physical world".
"Physical stores just aren't going away," said David Geisinger, head of retail business strategy for eBay. "Without this technology, retailers will be left behind."
The technology will also empower store staff who can find it hard to engage with smartphone-wielding shop visitors who often, through their device, know more about a store's inventory and products than they do.
ABOUT THE AUTHOR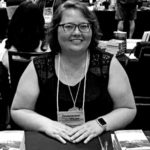 Kristina Knight is a freelance writer based in Ohio, United States. She began her career in radio and television broadcasting, focusing her energies on health and business reporting. After six years in the industry, Kristina branched out on her own. Since 2001, her articles have appeared in Family Delegate, Credit Union Business, FaithandValues.com and with Threshold Media.