Blackbaud: Boomers donate almost half of all charitable dollars
According to Blackbaud, a new generation is emerging in the US as the "torchbearer" of giving – Baby Boomers.
Baby Boomers, those between the ages of 49 and 67, are now responsible for 43% of all dollars donated, found Blackbaud in its "Next Generation of American Giving" study, and multi-channel engagement is becoming the norm.
"With changes in technology, the economy and demographic make-up of donors, nonprofit organizations are really trying to get a handle on the right investment for their future success as engagement becomes even more and more complex," said Mark Rovner, founder and CEO, Sea Change Strategies, adding that "different generations prioritize their support of a nonprofit in different ways."
The study, which divided donors into four generations (Gen X, Gen Y, Boomers, Matures), compares interest and giving behavior. It found that almost three-quarters (72%) of Baby Boomers, by far the largest demographic, donated an average of $1,212 to charities last year. By comparison, 59% of Generation X – those between the ages of 33 to 48 – gave an average of $732.
Meanwhile, a significant percentage (88%) of the oldest age groups (Matures) donated to charities, an average of $1,367 (26% of the total). Sixty percent of the youngest Americans donated an average of $481.
The study is quick to point out that younger donors may give less as a group because they are still establishing careers, starting families, and some may be having more difficulty making ends meet. These are the groups most likely to show support by way of volunteering their time.
So, what charities are the various generations likely to support? According to Blackbaud:
– Baby Boomers and Matures are more likely to support veterans' causes;
– Gen X and Gen Y are more likely to support human rights and international causes;
– Gen X and Gen Y are more likely to support children's charities;
– Gen Y is the least likely to support local social services;
– Gen Y is less likely to support environmental causes.
For more information on giving preferences and ways in which each demographic prefer to donate (volunteering/cash/donating items), check out Blackbaud's excellent infographic.
ABOUT THE AUTHOR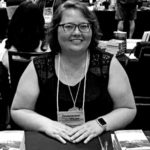 Kristina Knight is a freelance writer based in Ohio, United States. She began her career in radio and television broadcasting, focusing her energies on health and business reporting. After six years in the industry, Kristina branched out on her own. Since 2001, her articles have appeared in Family Delegate, Credit Union Business, FaithandValues.com and with Threshold Media.