Tablets high on back to school lists
Retailers with a hand in the consumer electronics niche may see a good payday through the back to school season. That because the bulk of consumers say they're looking for either a laptop, a tablet – or both – in time for the new school year.
According to a new survey of back to school shoppers:
• 33% of consumers plan to buy a tablet for back to school
• 20% say they'll buy a new laptop
• 20% plan to buy a laptop and a tablet
For those keeping score that is a 73% majority who say they'll buy some type of computer; only 33% say they don't plan to purchase new devices for the 2013 school year.
"Tablets are definitely gaining momentum as an essential device for back to school shopping this season, and it's no surprise that the iPad remains the most popular tablet," said Norman Fong, CEO and Co-Founder of BuyVia. "What's interesting however is that while iPads remain the most popular tablet, PCs reign over Macs when it comes to laptop purchase preferences this year. This could be due to the significant price difference between PC laptops and Macs and an attribute to what parents are willing to spend."
Of those who say a tablet is on their list, most (39%) say they prefer an iPad.
Meanwhile nearly 40% of shoppers say they'll do at least some of their back to school buying online; about one-quarter say they'll 'do most' of their shopping online.
ABOUT THE AUTHOR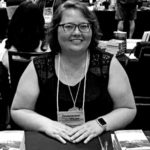 Kristina Knight is a freelance writer based in Ohio, United States. She began her career in radio and television broadcasting, focusing her energies on health and business reporting. After six years in the industry, Kristina branched out on her own. Since 2001, her articles have appeared in Family Delegate, Credit Union Business, FaithandValues.com and with Threshold Media.