BRC/Google: Tablet retail searches up 132%
Searches on tablets increased 132% in the second quarter of 2013 compared to last year, found the new report, outpacing those on any other device.
Retail searches from smartphones rose 66%, with total retail search volumes up by 15% year-on-year. Furthermore, retail searches originating from the UK for overseas retailers grew by 51% compared to Q2 2012.
"The considerable increase this month in the number of UK consumers searching overseas retailers show that barriers are increasingly being broken down," said BRC director-general Helen Dickinson. "UK retailers are already responding well to these changes and will be keen to continue seeing equivalent increases in overseas customers searching them out."
Growth in search volumes on both tablets and smartphones were at their highest during the weekend before the Wimbledon Championships.
Search volumes grew fastest for DIY and Gardening, up 32% year-on-year.
Adam Stewart, Marketing Director at Rakuten's Play.com believes that today's BRC Google Online Retail Monitor results provide further proof that the way consumers shop is changing.
"More people than ever are using tablets to discover and buy new items, and social networks to gain and share recommendations," said Stewart. "In the past year, we have seen a 100% increase in shoppers using tablet and mobile devices to visit Rakuten's Play.com and this now accounts for around 30% of all traffic. As the discovery shopping trend grows, social is playing an increasingly important role in retailers' multi-channel strategies."
ABOUT THE AUTHOR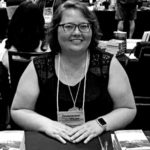 Kristina Knight is a freelance writer based in Ohio, United States. She began her career in radio and television broadcasting, focusing her energies on health and business reporting. After six years in the industry, Kristina branched out on her own. Since 2001, her articles have appeared in Family Delegate, Credit Union Business, FaithandValues.com and with Threshold Media.