Social sharing on Google+ to overtake Facebook within 3 years
Facebook remains the most popular social network with around 51% of global users logging on to the site at least once a month. While Google+ remains in second place with 26% of global users, things could soon change in terms of social content sharing.
Searchmetrics evaluated six months of social content shares on the two social networks, from November 2012 to April 2013, and discovered that, while Facebook shares grew approximately 10% per month, Google+ saw social media content shares rise 19% per month.
From these figures, Searchmetrics forecasts that, by February 2016, Google+ will be generating more monthly shares than Facebook. By May 2016, Facebook will reach 849 billion shares per month but Google+ will see far higher engagement at 1096 billion shares per month.
"In April 2013, the absolute number of shares for Facebook was over 29 billion compared with just over two billion plus ones for Google+ – so Facebook activity in terms of sharing was 15 times greater than that of Google+," said Marcus Tober, founder and CTO of Searchmetrics.
"Facebook is growing from its extremely large base to something larger and is therefore slower. But it's remarkable that Facebook is still growing. And that's why the blue giant appears to be unquestionably ahead of the market right now. But our data shows Google+ can catch it if growth rates for sharing activity continue as they are."
ABOUT THE AUTHOR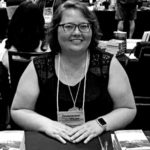 Kristina Knight is a freelance writer based in Ohio, United States. She began her career in radio and television broadcasting, focusing her energies on health and business reporting. After six years in the industry, Kristina branched out on her own. Since 2001, her articles have appeared in Family Delegate, Credit Union Business, FaithandValues.com and with Threshold Media.