Nielsen reveals habits of second-screeners
Nielsen's latest survey reveals that 85% use their tablet or smartphone while watching television at least once a month; 40% do so daily. Forty one percent use a tablet, while slightly less use a smartphone (39%).
But, are these second-screeners using their mobile devices to distract themselves, during ad breaks for example, or are they actively engaging with programming and brands that are advertising?
The answer, says Nielsen, is a bit of both. Almost half used their tablet to check up on details such as actors and plot lines, or information on sporting teams and personalities. Three-quarters looked up "general information", while more than two-thirds (68%) surfed the web, and over half (53%) logged in to a social networking site.
A significant 20% used their tablet to purchase something they had seen advertised while watching television, proving that second-screeners are yet another way for advertisers to connect with audiences.
An interesting finding regarding age – while 36% of those between the ages of 35 to 54 use a tablet while watching television, that rises to 44% among those ages 55 to 64. The older age group is also more likely to use a tablet that younger viewers, who are more likely to use a smartphone.
ABOUT THE AUTHOR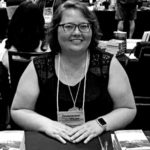 Kristina Knight is a freelance writer based in Ohio, United States. She began her career in radio and television broadcasting, focusing her energies on health and business reporting. After six years in the industry, Kristina branched out on her own. Since 2001, her articles have appeared in Family Delegate, Credit Union Business, FaithandValues.com and with Threshold Media.