Social video, QR releases freshen up the online space
First, from NeoMedia, the QodeScan system, a do it yourself QR code solution. The barcode scanner is supported by NeoReader and offers free and pay plans. Businesses using the platform can create and manage 2D barcodes while maintaining a budget.
"By selecting QodeScan for your QR generation, companies are assured of an easy to use, low cost solution from one of the industry's pioneers," said Laura Marriott, Chief Executive Officer of NeoMedia Technologies, Inc. "QodeScan is a simple, self service QR generation platform which is fully supported by NeoMedia's foundational patents, a claim that few in the industry can make. For those seeking more advanced QR campaigns, NeoMedia continues to offer its NeoSphere barcode creation solution."
And from video hub Unruly, news that they've acquired the social ad platform ShareIfYouLike, pushing them into a top global slot for social video. According to some estimates, video ads will reach $10 billion by 2015; having a strong foothold not only in video but in social should offer clients using Unruly better access to both.
"Demand for social video has reached a tipping point now that content marketing has established itself as a must-have marketing medium for every CMO's strategic priorities and budget," said Scott Button, Co-founder and CEO at Unruly. "This acquisition not only accelerates our international growth but marks the start of consolidation in the market as social video technology is sitting high on the merger and acquisition agenda of large technology companies."
ShareIfYouLike is a leading German social video ad platform, pushing Unruly's existing footprint into international waters.
ABOUT THE AUTHOR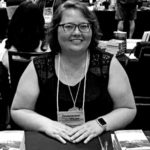 Kristina Knight is a freelance writer based in Ohio, United States. She began her career in radio and television broadcasting, focusing her energies on health and business reporting. After six years in the industry, Kristina branched out on her own. Since 2001, her articles have appeared in Family Delegate, Credit Union Business, FaithandValues.com and with Threshold Media.