QR Code scanning takes off in China
QR Codes in China aren't new, they've been in use for almost a decade, although their use has been somewhat limited. It wasn't until several large Internet firms in China started to base new services on the code that their use by ordinary consumers took off. Tencent Holdings, a leading Internet and mobile phone service provider, launched its QR Code scanning services in 2012.
Today, in China, QR Codes are being used for a multitude of things – to pay for products, redeem coupons, check transport times, social networking and information discovery. The British Embassy in Beijing has a large QR Code on the front gate, grocery shoppers at Carrefour can scan produce, and a Shenyang cemetery has proposed using QR Codes on headstones to allow visitors to view the deceased's details. Even watermelons have QR Codes.
According to Mary Meeker in her latest report on the state of the Internet, China now scans 9 million QR Codes every month, up from 2 million last year.
As well as being a new way for people to get access to goods and services, scanning QR Codes is becoming fashionable among mobile users.
"QR Codes make it more convenient for users to operate their smartphones, and will be an important tool for mobile Internet use in the future," Li Zhi, a senior analyst at Beijing-based Internet services firm Analysys International, told the Global Times earlier this year.
ABOUT THE AUTHOR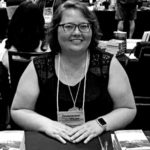 Kristina Knight is a freelance writer with more than 15 years of experience writing on varied topics. Kristina's focus for the past 10 years has been the small business, online marketing, and banking sectors, however, she keeps things interesting by writing about her experiences as an adoptive mom, parenting, and education issues. Kristina's work has appeared with BizReport.com, NBC News, Soaps.com, DisasterNewsNetwork, and many more publications.