How webrooming is taking over ecommerce
Kristina: We've been hearing about showrooming for the past year. Now 'webrooming' is gaining some buzz. What is Webrooming and why do retailers need to be aware of it?
Dr. Gary Edwards, Chief Customer Officer, Empathica: Webrooming is the opposite behavior to 'showrooming.' With showrooming, retailers are faced with the challenge of customers coming into the store to browse and test products, only to subsequently go home and actually complete their purchase online (often through a competitor.) Webrooming, on the other hand, is when consumers research products online before going into the store for a final evaluation and purchase.
Webrooming presents a unique opportunity for retailers to foster a more seamless experience for customers across multiple touchpoints, from Web to brick-and-mortar locations. Webrooming allows retailers to provide consumers with the access to information that they expect online — product information, pricing information, peer reviews — while still having a degree of influence over the customer journey by showcasing the brick-and-mortar physical experience as the logical final destination.
Kristina: Should retailers/brands be afraid of webrooming or should it be embraced?
Gary: Webrooming is a trend that should be embraced by retailers. It is a behavior that is increasing in frequency rather than decreasing. By adapting the webrooming experience, retailers are able to deliver to customers across multiple channels; webrooming is a huge opportunity to build greater levels of satisfaction and loyalty.
Likewise, while more difficult to deal with, the phenomena of showrooming should also be embraced by retailers. Like all challenges, these changes in consumer behavior can lead to opportunity. Simply put, consumers are no longer willing to adapt their behavior to suit the needs of retailers. As technology and access to information continue to empower consumers, it is retailers who must adapt. The ones who do are certainly poised for tremendous gains in customer loyalty and market share.
Kristina: How can retailers ensure their business is set up to take advantage of this trend?
Gary: The biggest challenge in adapting to consumers' new multi-channel expectations is breaking down the internal silos within a retail organization that often prevent delivering a seamless customer experience. eCommerce, marketing and in-store operations, among other sections, must no longer be looked at as separate divisions with an organization. They are all tasked with delivering on a unified goal: a seamless experience for customers across all of a brand's touchpoints.
More from Gary and Empathica next week – including his top tips to ensure brick-and-mortar stores are engaging to the tech-hungry shoppers entering the doors.
ABOUT THE AUTHOR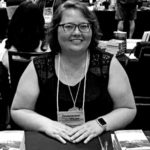 Kristina Knight is a freelance writer with more than 15 years of experience writing on varied topics. Kristina's focus for the past 10 years has been the small business, online marketing, and banking sectors, however, she keeps things interesting by writing about her experiences as an adoptive mom, parenting, and education issues. Kristina's work has appeared with BizReport.com, NBC News, Soaps.com, DisasterNewsNetwork, and many more publications.