BlueKai rolls out 3rd party data options
To begin, the BlueKai methodology will be validating demographic data; later roll outs will include the validation of different age groups and income categories. To validate the data in the system, BlueKai allows for a cross section of data providers to 'judge' data; other systems offer only a single entity judge system.
This assessment should give brands a better idea of how data is viewed by professionals and how that might translate into increased revenue and reach for their campaigns.
"In a world of limitless audience data, marketers have been clamoring for a more viable way to ensure they are targeting the right audiences," said Pieter De Temmerman, SVP of Exchange and Global Business at BlueKai. "We feel that the single-expert methodology is a flawed approach. There is far too much data across the digital landscape for one data provider or company to be the unchecked arbiter. We see consensus across a diverse group of data experts as the best way to validate audience quality and accuracy."
"Audience data validation is definitely an industry challenge and V12 Group supports BlueKai's new approach to surfacing valuable signals that is concurred across a large ecosystem of data experts", says Kelly Leger SVP/GM of V12 Group Digital Solutions.
The new system will be ranked according to attribute confidence, again judged by a cross section of data pros, and from there segments are tested to ensure the data quality remains high.
ABOUT THE AUTHOR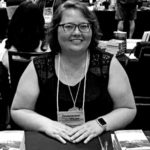 Kristina Knight is a freelance writer based in Ohio, United States. She began her career in radio and television broadcasting, focusing her energies on health and business reporting. After six years in the industry, Kristina branched out on her own. Since 2001, her articles have appeared in Family Delegate, Credit Union Business, FaithandValues.com and with Threshold Media.