What mobiles want from new smartphones
According to the BuyVia report most iPhone users will remain within the Apple infrastructure when it comes time to upgrade (46%). Samsung's Galaxy S4 is gaining a lot of attention from mobile users, however.
Norman Fong, CEO and Co-Founder of BuyVia said, "Our survey finds that people still want the iPhone, but it's clear their popularity is somewhat eroding. Consumers are more discriminating about features and pricing, no matter what platform they buy. Whether it's a cheaper iPhone, or potential products like the rumored iWatch, no position is safe and everyone has to continue to step up their game."
As for features, most mobile users want faster mobile processors, larger screens and cheaper prices.
To that end, it's interesting to note that leading mobile ad and publishing hub Tapjoy has added more non-gaming content to their network. While games will remain popular on mobile, Tapjoy is hoping to tap into the trend of consumers engaging with multiple types of content via their smart devices.
"We strongly believe the premium-content distribution model that has worked for gaming companies can work just as well for apps in retail, movies, music and more," said Rob Barnett, Head of Publisher Development at Tapjoy. "Developers outside of games are starting to see the opportunities that a value exchange-based advertising platform model can deliver for monetizing their apps and distributing their premium content. We've been enormously successful integrating the Tapjoy Mobile Value Exchange® model into gaming apps thus far, and think our success to this point positions us well."
The new offerings from Tapjoy include lifestyle products like the Top Chef University app while offers professional cooking tips and techniques, a utilities product that offers users additional data availability by engaging with an ad and free text/talk apps that allow users to talk or text for free from international locations.
ABOUT THE AUTHOR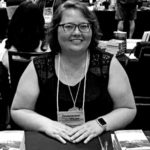 Kristina Knight is a freelance writer based in Ohio, United States. She began her career in radio and television broadcasting, focusing her energies on health and business reporting. After six years in the industry, Kristina branched out on her own. Since 2001, her articles have appeared in Family Delegate, Credit Union Business, FaithandValues.com and with Threshold Media.